Introduction to the Cannabis Legislation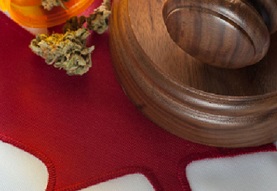 Price
$60.00
Content Provider:
RCMP
Language
En/Fr
Length
2.5 hours
Registration Process
Register
This course is intended to provide timely, relevant, and interactive online training, as well as assist police and other Canadian law enforcement partners in gaining a solid working understanding of their roles and responsibilities in enforcing the new Cannabis Act.
The Canadian Government has committed to legalizing, regulating, and restricting access to cannabis
through legislation. The Cannabis Act became law on October 17, 2018.
The RCMP, the Canadian Association of Chiefs of Police (CACP), and the Canadian Police Knowledge
Network (CPKN) have worked in partnership to develop and provide training on this legislation for all Canadian law enforcement that informs police officers on the federal legislation surrounding cannabis use. This training provides an overview of the Cannabis Act and includes information about cannabis, offences and penalties within the Act, important considerations for workplace health and safety, and information about cannabis and Indigenous communities.
When you have completed this course you will be able to:
List the two most common active ingredients in cannabis
Identify the stages of cannabis plant growth
Identify the effects of THC
Recall the difference between authorized and prohibited cannabis extraction methods
Recall the difference in effects between smoking cannabis and ingesting a cannabis-infused edible
Apply the equivalency factors to 30 grams of dried cannabis
Differentiate between non-medical and medical possession
Articulate the elements of each offence under the Cannabis Act that pertain to law enforcement
Articulate the offences and penalties under the Cannabis Act that pertain to law enforcement
Articulate the elements of offences under the Cannabis Act related to commercial sale
Articulate powers of arrest for offences under the Cannabis Act related to commercial sale
Understand offences under your provincial/territorial legislation
Recall the implications of cannabis use and its impact on driving ability
Recall special provisions related to search and seizure under the Cannabis Act
Recall the importance of personal protective equipment
Recognize and identify hazards as they relate to environments involving cannabis
Explain the importance of reporting exposure to cannabis and associated hazards
Discuss public safety issues as they relate to cannabis activities
Recognize how the Cannabis Act will apply to Indigenous communities
Recognize the importance of tailoring the enforcement approach to the unique nature of each Indigenous community
Recognize implicit bias and its impact
Apply the investigative skills you already possess to assist you in enforcing the Cannabis Act
Target Audience
Sworn Police, Police Services, Government and Other First Responders
Content Provider
Content for this course was provided by the RCMP and Canadian Law Enforcement Partners.