Convicted Offender Submissions for the National DNA Data Bank (NDDB)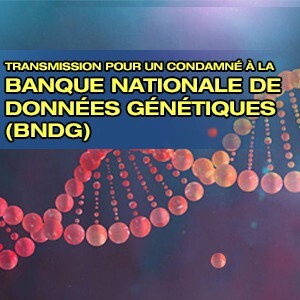 Content Provider:
RCMP
Language
En/Fr
Length
2 hours
Release Date
2021-05-19
Registration Process
Register
Welcome to Convicted Offender Submissions for the National DNA Data Bank (NDDB).
The Convicted Offender Submissions for the National DNA Data Bank (NDDB) online course serves as a refresher course to keep police officers current in the legal requirements set in the Criminal Code, their techniques, and their knowledge regarding a convicted offender submission to the NDDB.
This online course outlines the role of the NDDB, along with obtaining and verifying a DNA order. It teaches the procedures to follow when obtaining and submitting both a biological Sample and an Endorsement to the NDDB and provides the reference to the Criminal Code for requirements imposed on the officer. Finally, the course discusses defective NDDB submissions, including rejection reasons and acceptance criteria set by the RCMP polices and legislation.
When you have completed this course you will be able to:
Recognize the role the NDDB plays in the administration of justice
Recognize the importance of collecting biological samples from offenders convicted of designated offences
Identify the key steps in the process of obtaining and submitting a biological sample and an endorsement to the NDDB
Recognize the consequences of common errors identified by the NDDB during the submission verification process
List the key resources that can assist when required to obtain and submit a biological sample or endorsement to the NDDB
Target Audience
Sworn Police, Government and Other First Responders
Content Provider
Content for this course was provided by the RCMP.