Water Safety for First Responders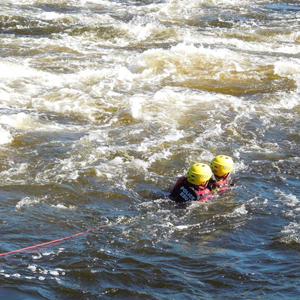 Price
$35.00
Content Provider:
Ottawa Police Service
Language
En
Length
2 Hours
Release Date
2021-10-22
Registration Process
Register
Canada has vast areas of water and first responders are regularly called to emergencies on rivers, lakes, streams, and oceans. Water-related calls can pose a number of risks and it is important that responders employ proper techniques to ensure their own safety as well as that of others.
Water Safety for First Responders is designed to provide first responders with the necessary skills and knowledge to conduct a safe water rescue. In addition to reviewing the various types of rescue and safety equipment, this course provides information on how to assess a water-related emergency and determine an appropriate plan of action. It also specifically addresses cold water issues and considerations for missing person and suicide investigations.
It is strongly recommended that all front line personnel receive practical water-based safety training.
When you have completed this course you will be able to:
Explain why water-related training is vital for front line first responders
Recall the factors that affect local drowning rates and the scope of the issue nationally
Identify various types of rescue and safety equipment, their uses, and characteristics for front line responders
Assess a water-related emergency and determine a plan of action
Identify alternatives to entering the water to effect a rescue
Explain the Priorities of Life model
Identify and understand some of the absolutes in water rescue
Explain the stages of the panic cycle
Identify different types of drowning victims and their characteristics
Identify best practices for rescuing victims given their subject profile
Outline proven techniques to deal with cold water immersion
Recall the physiological effects of hypothermia
Provide treatment for victims who have fallen into cold water
Recall the characteristics of a moving/swift water environment
Recognize hazards surrounding moving water and ice rescue conditions
Explain how to assist in team and self rescue from swift moving water
Identify clues that may suggest drowning by suicide
Explain the importance of identifying last seen points and last known activities
Target Audience
Sworn Police, Police Services, Private Security, Government and Other First Responders
Content Provider
Content for this course was provided by the Ottawa Police Service.