Seized Firearms Safety (Under Construction)
Course Category/Categories: Patrol/Operations Training, Under Construction,
Notice: This course is Under Construction. No new registrations are available at this time. Please watch for updates on when the new course will be released.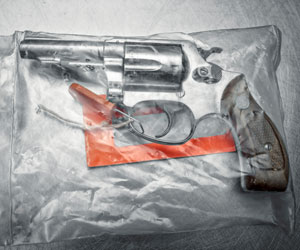 Price
$25.00
Content Provider:
RCMP Canadian Firearms Program
Language
En/Fr
Length
3 hours
Whether conducting searches, seizures, routine investigations, border checks, preparing court room exhibits, or entering/ admitting evidence, the safe handling of firearms is your responsibility. Safely handling firearms in the course of your duties will simplify your work, increase efficiency, and improve your ability to function with firearms — it may even save your life!
Seized Firearms Safety is an interactive e-learning tool designed to instruct on basic firearm safety in accordance with the Canadian Firearms Program's Canadian Firearms Safety Course. This course will develop recognition of firearm types and actions and will provide operational knowledge to allow you to unload and "prove-safe" most of the firearms you will encounter.
Learning Objectives
When you have completed this course you will be able to:
Recall the acronyms of ACTS and PROVE as prescribed by the Canadian Firearms Safety Course
Define firearm and differentiate between muzzle loading and breech loading firearms
Identify firearm types
Identify the major assemblies of a firearm and their corresponding parts
Identify the common firearm actions
Understand the purpose of the action components
Understand the evolution of muzzle loading ignition systems
Identify muzzle loading ignition systems for Matchlock, Wheel-lock, Flintlock, Percussion and Electronic ignition
Identify the component parts of Flintlock, Percussion, In-Line Percussion and Electronic single barrel muzzle loading actions as well as Percussion Revolvers
Unload different firearm types and actions while observing the acronyms of ACTS/PROVE
Explain the requirements of the Firearms Act and its supporting regulations with regard to the safe storage, transportation, and display of Non-Restricted, Restricted and Prohibited firearms
Target Audience
Sworn Police, Police Civilian, Public Safety Officer, Peace Officer / Special Constable, Other Federal, Provincial and Municipal Employees
Content Provider
Content for this course was developed by the RCMP's Canadian Firearms Program. The development of this course was funded by the Government of Canada's Sector Council Program.