Naloxone Nasal Spray Administration
Notice: This course is offered as a free learning resource to all registered users. As such, there is no associated certificate of completion. It is intended for information only.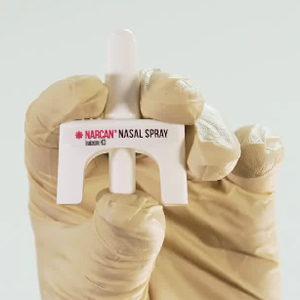 No Fee - Available to all registered CPKN users
Content Provider:
RCMP
Language
En/Fr
Length
0.5 hours
Registration Process
Register
Fentanyl is a highly potent and addictive synthetic opioid analgesic that is estimated to be up to 100 times more potent than morphine. While fentanyl has legitimate medicinal uses, there has been a dramatic increase in illicit user overdoses and deaths in Canada. Naloxone nasal spray is an opioid antagonist used for the emergency treatment of a known or suspected opioid overdose.
Naloxone Nasal Spray Administration will help frontline personnel understand how to respond to individuals suffering from an apparent opioid overdose following exposure and how to properly administer the naloxone nasal spray. This course describes the symptoms and signs of opioid exposure, how to respond, the steps required prior to administering naloxone (i.e. the need to perform CPR, the personal protective equipment required, etc.), how to appropriately administer the naloxone, and the side effects and mitigation strategies.
Learning Objectives
When you have completed this course you will be able to:
Respond to persons suffering from an apparent opioid overdose
Properly administer naloxone nasal spray
To Register
Any learner with a CPKN e-learning account may self-register to this free Learning Resource by following these steps:
Login to your e-Learning account
Click on 'Catalogues' in the upper blue navigation bar.
Click on the 'Free Learning Resources' catalogue.
Click on 'Register' to the right of the title.
Return to your 'Registered' course list (in the upper blue navigation bar). The title will appear in your list of courses.
As free learning resources, there are no Certificates of Completion associated with these offerings. They are intended for information only.
Please contact the CPKN Support Desk at support@cpkn.ca or 1-866-357-CPKN (2756) if you encounter any problems with this process.
Target Audience
Sworn Police, Police Services, Government and Other First Responders
Content Provider
This course was designed and developed by the RCMP and provided as a free learning resource to Canadian police via CPKN.