Firearms Identification for Public Agents 2.0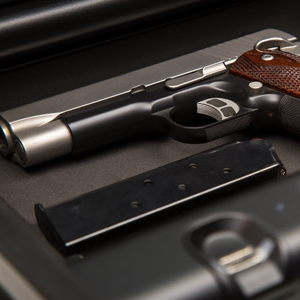 Price
$60.00
Content Provider:
RCMP Canadian Firearms Program
Language
En/Fr
Length
5 Hours
Release Date
2022-03-22
Registration Process
Register
Whether conducting CPIC inquiries, firearms traces, affidavit submission, warrant executions, evidence control or reporting firearms for the Public Agents Regulations or in ensuring compliance with the Firearms Act, the ability to identify firearms to the Canadian standard simplifies procedures, improves efficiency, and increases capacity to communicate about firearms.
Firearms Identification for Public Agents (v 2.0) is designated to instruct learners on the correct procedures and protocols to identify and classify firearms to the Canadian standard. The course focuses on developing competence around the contributing characteristics of Make, Type, Action, Classification, Calibre or Gauge, and Barrel Length. Learners will learn to apply the Canadian identification standard, and derive a positive identification using the internationally recognized Royal Canadian Mounted Police's Firearms Reference Table.
Learning Objectives
Upon completion of this course, you will have learned how to:
Define firearm, differentiate between muzzle loading and breech loading firearms.
Identify all firearm types.
Identify the major assemblies of firearms and their corresponding parts.
Identify the eleven different type of actions.
Identify firearm sub-assemblies and components.
Identify firearm markings.
Identify metallic and self-contained cartridges.
Identify various muzzle loading firearms.
Understand the criteria used to identify and verify a firearm.
Identify antique firearms.
Define the classification of firearms.
Identify common military rifles.
Understand the

Firearms Act

 and its supporting regulations with regard to the

Storage, Display, Transportation and Handling of Firearms by Individuals Regulations

.
Use the Firearms Reference Table in order to successfully identify firearms.
Level
This course is designed to provide a detailed guide to identifying firearms and using the Firearms Reference Table.
Target Audience
Sworn Police, Police Services, Government and Other First Responders
Content Provider
Content was provided by RCMP Canadian Firearms Program