Conducted Energy Weapon Operator Training (Saskatchewan)
Course Category/Categories: Under Construction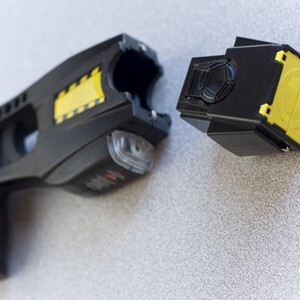 Price
$25.00
Content Provider:
BC Ministry of Justice
Language
En
Length
3 Hours
Conducted energy weapons (CEW) are widely used by law enforcement to gain control of subjects in potentially violent situations. However, the use of CEWs is not without risk. The 2007 tragedy involving Robert Dziekanski precipitated a comprehensive examination of the use of CEWs. As a result of that review, the Saskatchewan Police Commission has implemented new standards for the use of CEWs and operator certification.
Conducted Energy Weapon Operator Training (Saskatchewan) is designed to ensure police officers can safely use a CEW and can articulate the legal, technical, medical, and accountability requirements for use of a CEW. The content of this course is consistent with the Policy Manual for Saskatchewan Municipal Police Services – Standards and is mandatory for all municipal police officers who operate CEWs in Saskatchewan.
When you have completed this course you will be able to:
Explain the CEW operator certification and recertification requirements
Explain the CEW online course assessment
Describe a CEW
Compare and contrast pain compliance and neuromuscular incapacitation
Describe the three modes of CEW use
Identify the approved CEW for municipal police in Saskatchewan
Explain the National Use of Force Framework
Describe response options
Apply response options in practical terms
Explain some of the federal statutes pertaining to use of force – Criminal Code (CC)
Explain the Municipal Police Discipline Regulations, 1991
Identify your police agency operational policy
Explain civil liability
Explain public accountability – professional reputation
Define key terms
Explain and apply the 

Policy Manual for Saskatchewan Municipal Police Services – Standards

 for the use of CEWs
Identify the CEW components
Explain Preferred Target Zones
Explain how to handle CEW cartridges (loading and unloading)
Describe potential physiological effects/injuries
Explain the role of the automated external defibrillators (AEDs)
Explain medically high-risk CEW discharge
Define emotionally disturbed persons
Explain the medical considerations if physiological effects/injuries occur
Define key words regarding CEW incidents
Explain the 

Policy Manual for Saskatchewan Municipal Police Services Standards

 for Use of Force reporting and data downloads
Explain CEW operator documentation and downloading responsibilities
Identify additional requirements for CEW operator certification
Target Audience
Sworn Police, Peace Officer / Special Constable
Content Provider
This course was adapted from content provided by the BC Ministry of Justice, Police Services Division, in cooperation with a working group comprised of independent municipal police and RCMP use-of-force subject matter experts.