Threats to School Safety

Course Category: Contemporary Issues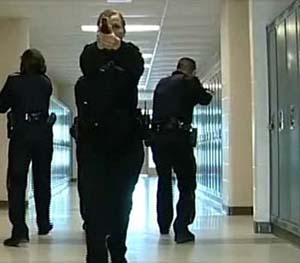 Price
$25.00
Content Provider:
Toronto Police Service
Language
En
Length
0.75 hours
Registration Process
Register
Tragic events such as Columbine, Taber, and Dawson College have changed the reality of school environments. It has also changed the way the police respond to school shootings and other violent incidents. A rapid, tactical police response to an Active Attacker is essential to minimize the risk to students and staff and to effectively stop the threat.
This course focuses on the key issues to understanding and investigating threats to school safety. In addition to instructing officers on the information and techniques relevant to the investigation of a school related shooting and an Active Attacker, this course prepares officers to respond to and deal with threats in a school environment, communicate information to specialized police investigators, and increase their safety in interactions with a threat. This course also reviews the dynamics of an Active Attacker and the tactical solutions to be utilized during high risk situations at schools.
Learning Objectives
When you have completed this course you will be able to:
Learn the new terms related to Threats to School Safety
Understand the tactics to be employed with an Active Attacker
Analyze the conduct of both the school shooter and Active Attacker
Consider how the staff and students at the school will react to the Threat
Examine how threats to school safety will affect both the officer and the target of the threat
Determine how police investigate and stop the threat to safety of both themselves and others
Consider the issue of officer safety when dealing Threats to School Safety
Target Audience
Sworn Police, Peace Officer / Special Constable
Content Provider
This course was developed by the Toronto Police Service and made available to all police services via CPKN.