Identifying Staged Collisions

Course Category: Patrol/Operations Training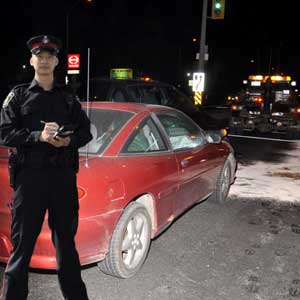 Price
$25.00
Content Provider:
York Regional Police
Language
En
Length
0.75 hours
Registration Process
Register
Automobile insurance fraud is a billion dollar industry in Canada. Staged collisions, where incidents are orchestrated in order to collect hefty insurance payouts, are a large component of this type of fraud. Criminals can stage collisions in many ways and a single event can result in hundreds of thousands of dollars in fraudulent claims. These activities not only put innocent people in jeopardy but also result in increased costs to all individuals who pay into the insurance system.
Identifying Staged Collisions provides an overview of this type of fraud activity, including videos of common types of staged collision scenarios and associated service supplier fraud. This course also provides information on the various signs, indicators, and behaviours that may indicate a staged collision and techniques to properly investigate suspected staged collisions.
Learning Objectives
When you have completed this course you will be able to:
Understand the common types of staged collisions
Recognize the signs, indicators, and suspicious behaviours in a staged collision
Properly investigate a staged collision
Target Audience
Sworn Police, Police Civilian, Public Safety Officer, Peace Officer / Special Constable, Other Federal, Provincial and Municipal Employees
Content Provider
This course was developed by York Regional Police in collaboration with the Insurance Bureau of Canada.