General Investigative Training – Part 1 (Under Construction)
Course Category/Categories: Investigations, Under Construction,
Notice: This course is Under Construction. No new registrations are available at this time. Please watch for updates on when the new course will be released.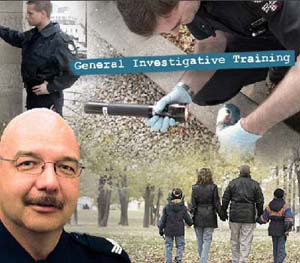 Price
$200.00
Content Provider:
Ontario Police College
Language
En
Length
16 hours
The General Investigative Training course is a foundation training activity designed to provide new investigators with the necessary skills and knowledge to transition from the patrol function to the investigative function. The course emphasizes the concepts and principles of good case management practices and the core competencies of a general investigator.
GIT is now offered in a two part blended learning program. Using this approach, officers seeking GIT certification complete Part I via an e-learning course from CPKN and Part II in a condensed classroom session from the Ontario Police College or a designated police service.
GIT provides the basis for further specialization in a specific investigative field. It is a mandatory pre-requisite for most other investigative and senior level courses.
Part I
The e-learning component of GIT contains basic concepts and foundational knowledge-based course material that has been adapted into an e-learning format. Using case scenarios and experiential exercises, Part I is a pre-requisite to Part II and is an introduction to the following subject areas:
Introduction to Criminal Investigation
Ontario Major Case Management
Crime Scene Management & Security
Notebooks
Canvassing
Collection & Preservation of Physical Evidence
Human Sources
Operational Planning
Victims
Statement Law
Evidence
Death Investigation
Media
Part II
Part II (classroom component) of the GIT course is available to sworn police officers only. It will deal with a range of additional topics such as search (with/without warrant), interview techniques, informant development and handling, case preparation, and disclosure.
For more information on Part II, please contact:
Thomas Page
GIT Coordinator, Ontario Police College
Tel: (519)773-4213
Email: thomas.page@ontario.ca
For more information about this blended learning program, please view the GIT Blended Learning Guide.
Target Audience
Sworn Police, Public Safety Officer, Peace Officer / Special Constable, Other Federal, Provincial and Municipal Employees
Certification
Participants who successfully complete Part I (online) and Part II from an OPC-certified trainer will be issued an OPC certificate for "General Investigation Training Course". Otherwise, certification must be issued by the Part II delivery agency/service on completion of the program.
Content Provider
Content for this course has been provided by the Criminal Investigation Training Unit of the Ontario Police College.