Forensic Identification Pre-Course
Notice: The Forensic Identification Pre-Course is a pre-requisite to the Canadian Police College's Forensic Identification course. Candidates for the CPC course must register via the CPC Registrar. Access to the online pre-course will be administered by CPC.

This course is also available as a stand-alone training tool to the general Canadian police and law enforcement community. Those individuals may register for the Forensic Identification Pre-Course directly through CPKN.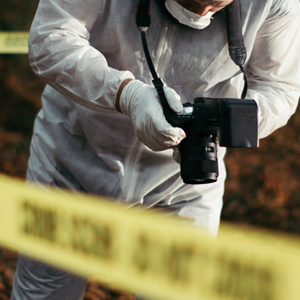 Price
$50.00
Content Provider:
Canadian Police College
Language
En/Fr
Length
3 hours
Release Date
2021-01-08
Registration Process
Register
Forensic photography is a fundamental element of any crime scene investigation. Long after a crime scene or accident site is restored, the images produced by a forensic identification specialist will continue to provide an accurate reproduction of the scene. These images are not only an important tool during an investigation but also preserve and document evidence for use in court proceedings. The quality of crime scene images can make or break an investigation.
The Forensic Identification Pre-Course provides the learner with a basic understanding of photography concepts and equipment, specifically focusing on Digital Single Lens Reflex cameras. It also reviews the legal aspects encountered when working in Forensic Identification and provides a basic overview of the Workplace Hazardous Materials Identification System.
Learning Objectives
When you have completed this course you will be able to:
Demonstrate a basic understanding of the nature of light and how it applies to photography.
Demonstrate familiarity with DSLR cameras, in particular the Nikon D300.
Demonstrate the proper procedures for file management accepted by the Canadian courts
Discuss the key components of the Digital Single Lens Reflex (DSLR) camera, their relationship with each other, and their role in photography
Explain the various photography skills that are used by a Forensic Identification Specialist.
Recall the basic features of the Nikon SB-900 electronic flash
Utilize various flash techniques specific to a given situation
Understand the laws, acts, and case law which govern the taking and retaining of fingerprints, palmprints, footprints, and photographs of adult and young offenders
Demonstrate a basic understanding of the Workplace Hazardous Material Information System
Level
This offering is an introductory level course on forensic photography.
Target Audience
Sworn Police, Police Civilian, Public Safety Officer, Peace Officer / Special Constable, Other Federal, Provincial and Municipal Employees