Forensic DNA Evidence

Course Category: Investigations
Course Category: Students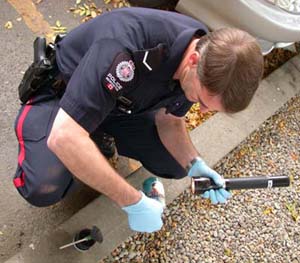 Price
$25.00
Content Provider:
Justice Institute of British Columbia
Language
En/Fr
Length
3.5 hours
Registration Process
Register
The use of forensic DNA evidence has a profound impact on criminal investigations. The ability to differentiate between individuals on the basis of their "DNA profile" has resulted in more reliable identification of criminals, the establishment of innocence for wrongfully convicted persons, and the capacity to link crimes not previously believed to be associated. As with any form of evidence, police officers, conservation officers, and other law enforcement personnel must collect, handle, and store DNA evidence according to accepted methods to ensure its validity at trial.
Forensic DNA Evidence provides officers involved in the investigation of criminal offences, including serious violent crimes, sexual crimes, and other major crimes in which forensic DNA evidence may be utilized, with a comprehensive understanding of the DNA warrant provisions of the Criminal Code, case law, and evidence collection issues.
Learning Objectives
When you have completed this course you will be able to:
Recall the basics of DNA science and its uses in law enforcement investigations
Identify biological substances and other unusual exhibits that may be used for DNA analysis
Recall DNA evidence collection issues
Recall the definition of "accountable contamination"
Recall the ways that DNA evidence results may be reported and interpreted
Recall the procedure for obtaining and executing a DNA warrant
Recall legal issues related to forensic DNA evidence
Recall the federal DNA database legislation and how it affects forensic DNA evidence
Level
This introductory level course is designed for police or law enforcement officers who may be involved in investigations in which DNA may be used as evidence. It is an effective training resource for new personnel, but also serves as a useful reference or refresher for more experienced officers.
Target Audience
Sworn Police, Police Civilian, Public Safety Officer, Peace Officer / Special Constable, Student, Other Federal, Provincial and Municipal Employees
Content Provider
The development of this course was funded by the Government of Canada's Sector Council Program. Content for this course was provided by JIBC.