Explosives Awareness v2.0 (Under Construction)
Course Category/Categories: Contemporary Issues, Under Construction,
Notice: This course is Under Construction. No new registrations are available at this time. Please watch for updates on when the new course will be released.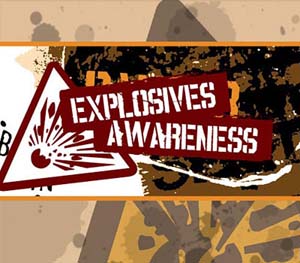 Price
$25.00
Content Provider:
RCMP Canadian Bomb Data Centre
Language
En/Fr
Length
0.75 hours
At some time during the course of regular duties, it is likely that police and other first response personnel will be called upon to contend with a problem involving some type of explosive. The ability to successfully and safely manage a situation of this nature requires knowledge of a number of basic but very important facts.
Explosives Awareness describes the different types of explosives, the associated dangers, and the necessary precautions responders must take when dealing with an explosive. It also reviews the procedures and policies that must be followed when called to a situation involving explosives. It is important to note that as an awareness level course, it will not qualify learners with any degree of expertise in this field, but rather is designed to increase the safety of responders when dealing with incidents involving explosives.
Learning Objectives
When you have completed this course you will be able to:
Recognize different types of explosives and/or explosive devices
Identify situations where individuals could be exposed to explosives and/or explosive devices
Describe the procedures to follow upon discovery of a suspected explosive and/or explosive device
Explain the RCMP Explosives Disposal policy
Level
This is an awareness level course designed for all police and first response personnel.
Target Audience
Sworn Police