Collision Investigation Level II – Part I

Course Category: Investigations
Notice: Content for this blended learning program has been developed by the APA in collaboration with collision training experts from across Canada. Part I is delivered online; Part II (practical) may be delivered by a police service or training academy.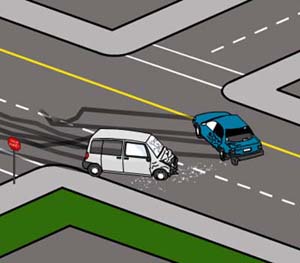 Price
$100.00
Content Provider:
Atlantic Police Academy (APA)
Language
En
Length
6.5 hours
Registration Process
Register
Part 1
This blended learning approach aims to reduce the conventional three training days of Level II theory into approximately 6.5 hours of online learning. Part I of this program reviews theory-based information on how to gather information that will be used to determine the cause of a collision. This course will demonstrate the importance of fully understanding events before and after a collision occurs, how to properly record evidence, and what specific types of evidence are required by an Analyst or Reconstructionist to determine of the cause of a collision. Using animated movies, graphics and interactive tools, this elearning course provides a practical representation of the events of a collision. Part I is a pre-requisite to Part II.
On completion of the Level II program (Part I & II), participants will be able to competently assist a Level III Analyst (or higher). Successful participants may be required for court purposes to describe the manner in which they identified, preserved and/or gathered evidence, but will not acquire the necessary knowledge to provide a complete technical analysis. Upon approval of the facilitator, participants who successfully complete this program may also be called upon to assist a Level III or IV Investigator deliver a Level II course.
Part 2
The practical component of this blended program must be facilitated by a Level III Analyst (or higher) from a recognized Canadian police service or training academy. Part II may be delivered by a police service or training academy.
The APA provides a recommended syllabus for Part II that covers approximately 2 – 2.5 days of practical training. This syllabus may be modified by a police service or academy to meet specific training needs. Training Coordinators from police services and/or training academies, or Level III (or higher) Collision Investigation Specialists can obtain a copy of this syllabus by contacting CPKN Support at 1-866-357-2756.
Learning Objectives
Upon completion of this course you will be able to:
Explain what actions to take at the different stages of a collision investigation
Differentiate between pre-scene and on-scene series of events
Explain how road and weather conditions can contribute to, or cause, a collision
Describe the different types of physical evidence found at a collision scene
Explain how to properly measure common skid marks found at a collision scene
Determine if a lamp was active or inactive at the time of a collision
Describe how to photograph and video record a collision scene properly
Explain the importance of sketching, mapping and diagramming a collision scene
Explain how to use the features of the Blue Blitz traffic template to create scaled diagrams depicting collision scenes
Explain the formulas needed to calculate speed estimates of vehicles based on measurements of tire marks
Level
Level 2
Target Audience
Sworn Police
Certification
The APA will issue Collision Investigation Level II certification to participants that complete Part II at its academy. Otherwise, certification must be issued by the delivery agency on completion of the program.
Pre-Requisite
Six months of policing experience.