Characteristics of an Armed Person

Course Category: Community Awareness and Interactions
Notice: This course was developed by the Toronto Police Service and contains video produced by the Ontario Police Video Training Alliance. OPVTA has provided permission for the course to be made available to all Canadian police services.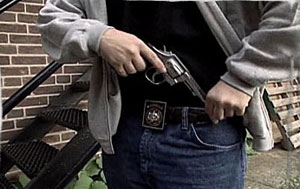 Price
$25.00
Free for OPVTA members; $25.00 for non OPVTA members.
Content Provider:
Toronto Police Service
Language
En/Fr
Length
0.75 hours
Registration Process
Register
As witnessed through videos, media reports, and officer experiences, individuals possess or have access to firearms on a more frequent basis. As such, in the interest of public and personal safety, it is extremely important for front-line police officers to be able to recognize the signs and indications that an individual is armed.
Characteristics of an Armed Person reinforces the edict that OFFICER SAFETY IS A PRIORITY. Through the use of images, videos, audio and text-based narratives, and specific case law, this course will instruct officers on identifying a person that is armed.
Learning Objectives
Upon completion of this course you will be able to:
Understand where the guns are coming from
Determine an individual's dominant side
Distinguish methods and types of firearm concealment and positioning of makeshift holsters
Identify the body movements and behavioural patterns of an armed person
Recognize the clothing characteristics of an armed person
Observe and identify unusual or exotic firearms
Employ officer-specific enforcement tactics and practices
Identify characteristics relative to stopping a vehicle containing an armed person
Articulate the grounds for actions related to court evidence with associated case law
Level
Intermediate level course for Canadian Sworn Officers.
Target Audience
Sworn Police, Peace Officer / Special Constable
Content Provider
Content provided by Toronto Police Service with video produced by OPVTA