Canadian Rail Incident Investigation Guideline

Course Category: Free Learning Resources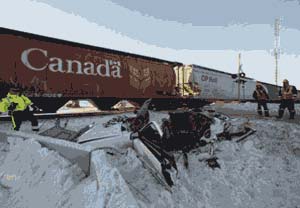 Content Provider:
Canadian National, Canadian Pacific, and Transport Canada
Language
En/Fr
Length
0.30 hours
Registration Process
Register
This video is offered as a free learning resource to all registered users. As such, there is no associated certificate of completion. It is intended for information only.
Every year in Canada, approximately 370 collisions and trespassing incidents occur at highway/railway crossings and along the railway tracks and result in the death or serious injury of nearly 170 people. Though responding to rail incidents is not a common occurrence for police officers, when the call comes, it is important to know the best means of conducting a thorough investigation in a safe and timely manner.
Developed by Canadian National and Canadian Pacific Police, in cooperation with Transport Canada, the Canadian Rail Incident Investigation Guideline was created to provide police with a simple, effective tool that encompasses all of the major aspects of an on-site investigation. The Guideline is set out as a checklist of items outlining safety precautions that should be taken (both personal and public), who should be notified when an incident occurs, and how to proceed in a way that minimizes train delays and potential safety risks, without compromising the integrity of the investigation. The checklist contains generally accepted safety and police investigation practices that have been endorsed by Coroners, the Canadian Association of Chiefs of Police, Canadian National, and Canadian Pacific.
This video outlines the main elements of the Guideline, which will help police conduct successful investigations of main-track or rail yard incidents. It also features a printable copy of the Guideline for use by all police responders or investigators.
Target Audience
Sworn Police, Police Civilian, Public Safety Officer, Peace Officer / Special Constable
Content Provider
This video was developed by the Canadian National and Canadian Pacific Police, in cooperation with Transport Canada.