Acting Supervisor Program: Containing Critical Incidents

Course Category: Supervisor and Leadership Training
Notice: Notice: This module was originally created for the Vancouver Police Department and may contain VPD-specific information/policies.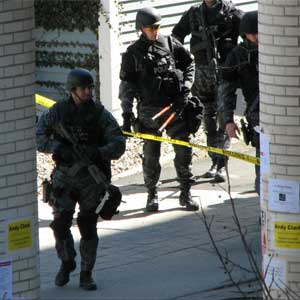 Price
$25.00
Content Provider:
Vancouver Police Department
Language
En
Length
1.5 hours
Registration Process
Register
Supervisors are tasked with many different aspects of policing and must be efficient in the core competencies such as communication, coaching, problem solving and decision making, leadership, resource management, and community focus.
Acting Supervisor Training:  Containing Critical Incidents is one of four modules in the Acting Supervisor Program.  It explores issues and tactics associated with containment, public safety, and crisis negotiation.
Learning Objectives
Upon Completion of this course, you will be able to:
Recall the basic tactics used in patrol
Recall the resources available to patrol supervisors
Recall the definition of containment
Recall the definition of lockdown
Explain the sequential steps to containment (SLOCEEI)
Compare the management of spontaneous and planned events
Articulate a supervisor's responsibilities when responding to crowd management events
Recognize and appreciate the role of crisis negotiators and how they can assist temporary supervisors at a call
Develop and awareness of the crisis negotiator role at high angle negotiations
Target Audience
Sworn Police, Public Safety Officer, Peace Officer / Special Constable, Other Federal, Provincial and Municipal Employees